Dr. Ralph's Automotive Services Center, where Experience delivers Quality!
At Dr. Ralph's Automotive Services Center, we guarantee excellent auto repair services. We have been in the field since 1976. So, you can expect to get underlying problems in your vehicle checked and solved in one place. We have been part of the industry for decades. So, detecting an issue isn't a problem for us. We are here to make a difference. The years of experience in auto repairing taught us the ways to tackle complications with your vehicle regardless of its intensity.
High-Quality Auto Body Repair Services
Whether the trouble is smaller or bigger, we are here to serve you with the best services. Our
passion for cars made the trusted auto body repair Philadelphia. Dr. Ralph automotive services
center is an own family business that offers a full-service auto body repair Philadelphia pa.
With our determination and hard work, we are eager to fix auto problems at earliest.
Reliable Automotive Services
Although there are other repair businesses, Dr. Ralph's automotive services center is committed
to delivering services that impact the condition of your vehicle in the longer run. This factor
makes customers choose us over other auto body repair shops. Providing a wide range of repair
services seems a fictitious idea. But, we have built the business after dealing with one and other
complex repair cases over the years.
Customer Satisfaction
Once we decide to work on an auto repair project, we finish it with perfection and ensure
customer satisfaction. Our prestigious clients are our top priority. That is why we don't hesitate
to go the extra mile to solve the occurring problem. Dr. Ralph's remarkable services make us a
trustworthy name in the business. When they need reliable services, our valuable clients come
back to us.
Proficient Team
When you are in need of excellent auto repair services, Dr. Ralph, along with son, Franco,
welcome you wholeheartedly. Our team of professionals and us will inspect your vehicle
carefully and suggest the best solution.
Your Neighborhood Service Center
Dr. Ralph's Automotive Services Center is a full-service auto body repair and mechanical repair center located in the Roxborough/Manayunk section of Philadelphia.  Our full service offering includes:
High quality, complete collision repairs

Full-service mechanical repairs

Motorcycle body repair and painting

Exotic car collision repair
Auto body repair and mechanical repairs are just a few of the services we offer.  We also offer mobile glass repair service, paintless dent removal, and much more!
Dr.Ralph's and son Franco welcome you to our website and hope that you will stop by in person to experience the difference family makes.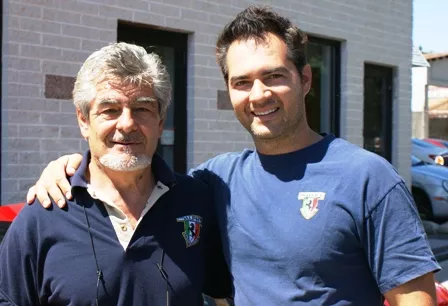 Family owned… family operated… makes a difference
LEARN MORE ABOUT OUR SERVICES…